The Tech Review is VNN's weekly run-down of the tech companies having the biggest impact in sports, and our team's picks for which platforms we see as the best choices for high school athletic departments across the country.

It's never been easier to watch your favorite sports teams from wherever you are. Across college and the pros, we've seen deal after deal come together to make sporting events available live across the internet wherever fans may be. From the NBA announcing their partnership with Twitter to YouTube getting in on some MLB action, the live streaming industry is red hot, with names like Hulu, Sling TV, and YouTube Tv all getting themselves a piece of the pie.
For the high school athletic director, it all can be a bit intimidating. Even if there was enough time for it all, purchasing equipment, production values, connectivity, and distribution can be serious perceived obstacles that stand in the way of broadcasting your local gym to parents, grandparents, aunts, uncles, cousins, and fans across the country.
The good news is, there are several companies that have made it their mission to make it easy for high school administrators. Some come out of the box ready to go, others require a bit of work, but there are solutions should you find yourself wanting to start live streaming at your high school. We've broken out our list into a few categories to help you pick.

A flexible option
Rapid Replay
Rapid Replay Stream is an easy, comprehensive solution for schools looking for flexibility as they stream. Rapid Replay allows you to stream from any device, or multiple devices to capture different angles. It's not just limited to sports, either – you can go live at graduation, theatre performances, and more.
The Rapid Replay app provides a custom, built-in camera that's simple to use and accommodates spotty service. Your athletics website administrators can give streaming permission to a coach, trusted parent or fan at the event. All live events are archived on your athletics site for easy access to replay.
For schools looking to earn money
Justagame
Justagame Live is a powerful solution for schools aiming to monetize live streaming, with 75% of ticket sales returning to the school. It gives schools the option to stream from any mobile device or purchase a camera to mount. This is a great solution for schools that want a camera in one gym, but the option to stream from a phone at other events.
The Justagame Live app is simple to use, allowing you to go live in just a few clicks. Again, all game-day streams are saved to your VNN SportsHub site for anyone who missed the live event.
For the AD on a budget
BoxCast
One of the lowest cost options on our list, BoxCast, comes in at only $99/month. This affordable option allows you to stream to numerous platforms, like your school website, Facebook Live, and YouTube. This simple to use solution requires only a small box, a recording device, internet access and power. With unlimited viewers, unlimited events and high quality resolution, BoxCast is our choice for the AD on a budget. Can't watch live? BoxCast also automatically archives all of your events so you can go back and watch at your convenience.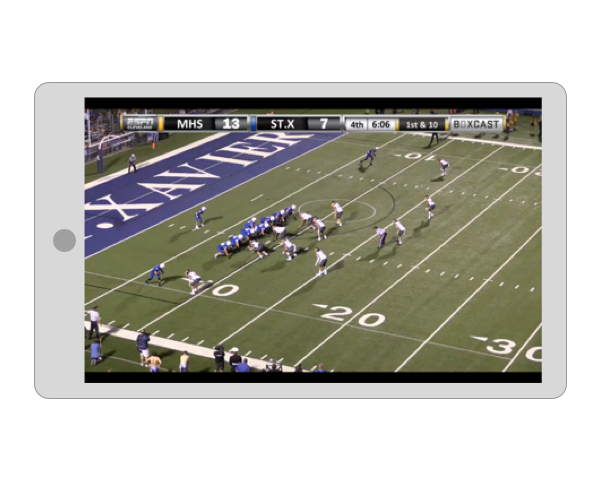 The Most-Trusted
NFHS Network
NFHS, and its live-streaming partner PlayOn! Sports, has partnered with 44 High School Athletic Associations across the country making it easily the most popular solution on our list.
With a one-time installation fee, and a cheap annual fee ($69), it's easy to see why NFHS is so popular. When you factor in the set up fee, it's slightly more expensive than BoxCast, but still very manageable. And, with their new automated production feature, it's easy to see why they're at the top of the list.
What's included:
Camera unit – weatherproof camera in a single mounted unit
Scoring device – plugs into scoreboard for automated score integration into the broadcast
Desktop Computer – for production integration & video processing
Other benefits? You don't need a camera operator, score graphics sync with venue scoreboard, and each Pixellot unit can integrate with your coaching software. Also, we can't forget to mention that it's free for the viewer so your fans across the country don't have to worry about spending a penny.
The Quickest
Meridix
If fast and easy is what you are looking for, Meridix makes the most sense. Just download the app, pick up a phone and start streaming. Great quality and simple set-up makes this a good option for an AD who wants to get started right away. The company makes its money from advertising though, and a few different reviews mentioned the inconvenience of having ads pop up while fans watch games. They can be removed by the fan at a cost.
Honorable Mentions
A few other live-streaming options are on our radar too:
Mascot Media – Another free option for users
Prepspotlight.tv – Great option for archived events
High School Zoom – Free, live and archived events. Another good option
Interested in getting live streaming set up on your VNN site? Connect with us here.